Theatre Directing and Coaching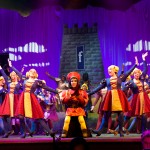 Victoria Biel has extensive experience directing, musical directing, conducting, and choreographing stage productions.  Past productions include Fiddler on the Roof, Les Miserables, Beauty and the Beast, The Mikado, Guys & Dolls, Phantom of the Opera and most recently the Shrek the Musical.  She continues to work actively with SCA Fine Arts, Cantilon Choirs, and Community Theatre groups in the Edmonton area doing individual coaching as well as production work.

Come see some of Victoria's current productions:
Cantilon Choirs Present: Mary Poppins in Concert | The Arden Theatre, February 21-22 | www.cantilonchoirs.ca
SCA Fine Arts Present: Annie | SPAC Auditorium, April 28-May 1 | www.scafinearts.com
Repertoire Intensive: 
Repertoire Intensives are most helpful if you are preparing a role, an audition package, or you are in need of acting coaching for an aria or musical theatre piece.  Several lessons in a short period of time focused directly on repertoire and acting preparation may be desired instead of yearly lessons in such cases.  These can be booked on a week by week basis depending on availability.
Please look at the voice instruction policies PDF on the Voice Instruction page for lesson rates.